Veneers
---
What Are Veneers?
A veneer is a cosmetic option that can help solve an array of problems. They are thin shells that cover your teeth in order to enhance your teeth's color, shape, and texture.
Overall, they are a great option that can help with any discoloration, cracks, or chipped teeth you may have. In some cases, they can also be a substitute for braces as they can make your smile appear straighter than before! Best of all, veneers look 100% natural!
---
4 Reasons Why You Should Get Veneers

---
Discolored or stained teeth
Fill any unwanted or uneven gap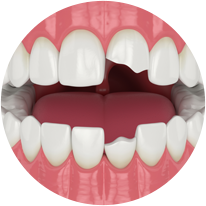 Worn or chipped tooth
---
---
Looking For A Veneer Specialist in Garland? Contact us!
---
---
Am I A Candidate For Veneers?
The majority of people who have a healthy smile are candidates. Usually, after your first consultation with our Garland specialist, we will devise a treatment plan tailored to your specific needs.
What's the Procedure?
Shortly thereafter, we will begin the process to have your teeth cleaned and remove a small amount of your enamel. To clarify, we remove enamel in order to ensure the veneers cover your teeth perfectly. Since we use only the thinnest and highest quality of materials, we don't need to remove much enamel compared to other cosmetic treatments.
Our cosmetic dentist will then proceed to take impressions and find the match for your desired teeth shade, size, and shape. After this is done, we will send this information to a dental lab. We will bond temporary veneers as you wait for your permanent ones to be completed. The procedure is actually quick and painless!
---
Restored Smile

Veneers are the epitome of cosmetic dentistry, they will leave your smile brighter and more beautiful than before!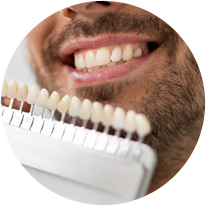 Custom Shading
Dental veneers act as a shield from discoloring agents such as smoking and soft drinks.
They are custom-made to blend in perfectly with your natural teeth
.
Quick & Easy

Depending on the state of your smile, you can expect to get your veneer smile in as little as three visits!
---
---