Teeth Whitening

Pearly Whites In Just One Visit!

With our advanced teeth whitening system offered at our Garland dental office, you can have a brighter smile in just one visit! Our cosmetic dentist Dr. Eslami, uses the professional teeth whitening option ZOOM to brighten up your smile 8 to 15 shades – if not more!
Professional teeth whitening in our office is long-lasting, effective, pain-free, and affordable compared to most dentists.
Why should you live with a yellow, discolored smile when you can enjoy a dazzling white smile in just one visit? Read below to learn more about our teeth whitening treatment and how our team's goal is to help you be comfortable and relaxed as you undergo the procedure.
---
Over-The-Counter VS Professional Teeth Whitening
---
---
The over-the-counter teeth whitening option is very popular amongst those who don't wish to set up an appointment with their dentist to whiten their teeth. While most would find the level of whiteness satisfactory with these at-home treatments, others would find that professional teeth whitening better aligns with their smile goals and lifestyle. In addition, over-the-counter teeth whitening products may have more diluted whitening ingredients-creating less dramatic results than people may have hoped for. Far worse is that this product may cause irritation in the gums due to the trays not being custom-made to your unique smile.
Although many women and men are content with the results of an over-the-counter teeth whitening treatment, many can still benefit from a whitening procedure done with us at Garland, Tx, or their local cosmetic dentist.
Generally speaking, teeth whitening done by us involve more concentrated bleaching agents that can whiten your teeth several more shades. These treatments are done in our office and generally finished with you taking a home teeth whitening tray that is custom made to your unique smile.


Is Teeth Whitening A Good Option For Me?

During your appointment, Dr. Eslami will give your smile a thorough exam to see the amount of discoloration and staining your teeth have in order to know if teeth whitening can help you achieve the results you want.

It is important to note that in order to get a teeth whitening procedure done, you must not have strong tooth sensitivity, cavities, or anything that needs to be worked on by a dentist.
---
The ZOOM In-Office Teeth Whitening Process
ZOOM is the fastest and the most effective teeth whitening product on the market today. Before, patients used ill-fitting trays to whiten their teeth at their homes. This type of treatment would take about two weeks and would brighten up their smile only about four to five shades at the end. With ZOOM in-house whitening treatment, we routinely get our patients to have dramatic results in just one hour ranging from 8 to 12 shades!

After your treatment, we guarantee your teeth will be whiter than before. To keep your results, we encourage you to keep practicing good oral hygiene by flossing, brushing a minimum of two times per day, and using your custom-fitted whitening tray if you choose to get some. We make the custom whitening tray here in our office, so keeping that new white smile you always wanted will be a breeze.

---
---
Looking for an experienced teeth whitening dentist in Garland, TX? Contact us.
---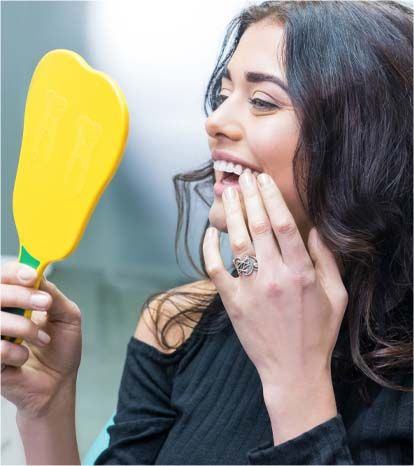 How To Keep Your White Smile
To keep your newly white smile beautiful, we recommend following up at Optima Dentistry with regular maintenance and dental cleanings. It is also important to note that maintaining your newly white smile may be troublesome if you're a smoker in the long term. We do however recommend that if you are a smoker, you use your custom whitening trays at home a few times a week after receiving the treatment. Adding this simple routine into your daily oral maintenance can prolong the whitening effects for those who are heavy smokers.
Another problem teeth whitening treatment may cause is the intervention with any previous dental work in the "smile zone". Old fillings and crowns will not whiten up your natural teeth, making them stand out more compared to before the treatment.
Luckily, most patients choose to have this dental work replaced with white fillings, new dental crowns, or porcelain veneers. ZOOM teeth whitening is a wonderful way for our patients to complete the look of their smile makeovers. We promise you that there is nothing like the sense of satisfaction and pride that comes with seeing your new, healthy smile brightened. If you would like to get your smile illuminated, don't hesitate to contact our Garland dental office to schedule your consultation!
---
---
---